Bucks Coalition Against Trafficking (BCAT)
Established in 2013, Bucks Coalition Against Trafficking (BCAT) is a NOVA project whose mission is to eradicate human trafficking in Bucks County through victim identification, community education, enhancement of arrests and prosecution of traffickers, legislative advocacy, and a coordinated response of survivor services.
Mission
Human Trafficking can occur anywhere, and it happens here in Bucks County. The Bucks Coalition Against Trafficking welcomes all community members to get involved in the mission to end human trafficking. Join a subcommittee, volunteer with us, or sign up for our email list.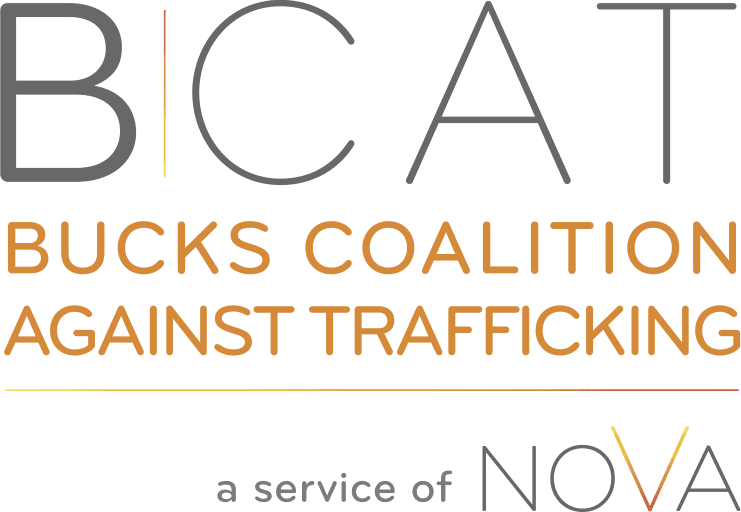 Quarterly Meetings
Please check back or join our mailing list for more information about the next quarterly meeting.
Everyone is welcome!
Join the BCAT Mailing List
BCAT is comprised of four subcommittees:
Victim Focus
The Victim Focus subcommittee is focused on prevention, intervention, and rehabilitation for victims of human trafficking. It is also concentrated on collaboration with existing organizations to utilize available resources as well as identifying unmet needs to effectively help victims.
Community Outreach
The Community Outreach subcommittee is focused on educating the community about the prevalence of human trafficking in Bucks County. This subcommittee also empowers the community to spread awareness, address demand, and respond to potential trafficking situations.
Law Enforcement and Prosecution
The Law Enforcement and Prosecution subcommittee is focused on training and empowering law enforcement and prosecutors to effectively identify and respond to human trafficking situations and victims.
Legislation and Public Policy
The Legislation and Public Policy subcommittee is focused on identifying public policy issues and opportunities to influence legislative initiatives related to human trafficking as well as educating the coalition and the community on current proposed legislation.
What is Human Trafficking?
Human trafficking is a crime involving the exploitation of a person for the purposes of compelled labor or a commercial sex act through the use of force, fraud, or coercion. Human trafficking affects individuals across the world, including here in the United States and is commonly regarded as one of the most pressing human rights issues of our time. Human trafficking affects every community in the United States across age, gender, ethnicity, and socio-economic backgrounds.
Sex trafficking is the recruitment, harboring, transportation, provision, obtaining, patronizing, or soliciting of a person for the purposes of a commercial sex act, in which the commercial sex act is induced by force, fraud, or coercion, or in which the person induced to perform such an act has not attained 18 years of age (22 USC § 7102).
Labor trafficking is the recruitment, harboring, transportation, provision, or obtaining of a person for labor or services, through the use of force, fraud, or coercion for the purposes of subjection to involuntary servitude, peonage, debt bondage, or slavery (22 USC § 7102).
What's the scale?
Human trafficking is the second most profitable and fastest growing criminal industry in the world. The International Labour Organization estimates that there are 40.3 million victims of human trafficking globally. It is estimated that forced labor and human trafficking is a $150 billion industry worldwide.
Source: Polaris Project https://polarisproject.org/human-trafficking/facts
Who is being trafficked?
80 percent of the people being trafficked are women and children. Half of the victims are minors under the age of 13 years old. 40 percent of homeless youth identify as LGBTQ+; these youth are at a higher risk of trafficking.
Why don't more people know?
Sex trafficking victims are often misidentified and treated as prostituted people rather than victims of sex trafficking.
Victims often go unnoticed by society because they are being hidden behind a widely socially accepted sex industry.
Commercial sexual exploitation is a hidden crime. It happens behind closed doors in hotel rooms, illicit spas and massage parlors, online, among other venues.