NOVA Thrift Shop
Your donations and purchases support the critical services that NOVA provides to our community. We are incredibly grateful for your contributions and for your support!
New Markdowns
Come in to see which colors are on sale this week!
Chuck-A-Luck
A Wednesday tradition at NOVA Thrift Shop! Spin our Chuck-A-Luck wheel for a discount on your purchase!
Veteran's Sale
Veterans take 10% off. We appreciate your service!
Pop-up Sales
Sporadically we start special sales (for example buy 2 get one free) on Fridays.
Tuesday, Thursday, Saturday
About Bucks County's Favorite Thrift Shop
NOVA Thrift Shop, a department store style thrift shop, holds 10,000 square feet of exceptional bargains including women's, men's and children's clothing, housewares, decorative items, books, furniture and linens. People come from miles around to stretch their dollar, treasure trove the perfect fashion, search for a unique gift, outfit a kitchen or decorate a room.
On any day of the week when the shop is open, you will find people searching through the bargain cove, bidding on silent auction items, filling baskets with in- style seasonal clothing, measuring a piece of art or furniture and always enjoying the experience.
Whether you wish to donate, shop, or both – know that you are making a difference! NOVA Thrift Shop is one of the largest revenue sources for NOVA, surpassed only by the federal and state government. Since opening the original shop in 2001, more than $3 million has been raised at NOVA Thrift Shop to support the organization's programs and services.
What Our Shoppers and Donors are Saying
Donation Hours
Monday – Saturday 10:00 AM – 4:00 PM
No Donations on Sundays
Shopping Hours
Monday – Saturday 10:00 AM – 5:00 PM
Sunday 12:00 PM – 5:00 PM
Holiday hours may vary.
The Thrift shop is closed on the following holidays: Easter, Mother's Day, Memorial Day, Independence Day, Labor Day, Thanksgiving, Black Friday, Christmas Eve & Christmas Day, New Year's Eve & New Year's Day.
Like and follow NOVA Thrift Shop on Facebook
Sign up to receive our email newsletter
How do I get to the Shop?
NOVA Thrift Shop is located on Route 313 (Swamp Rd), just 3.5 miles west of the Route 313/Broad Street exit off of Route 611 or 1.8 miles east of the Dublin Fire Company. We are at the corner of Broad Street and Swamp Road in Perkasie, PA. Look for the big red roof!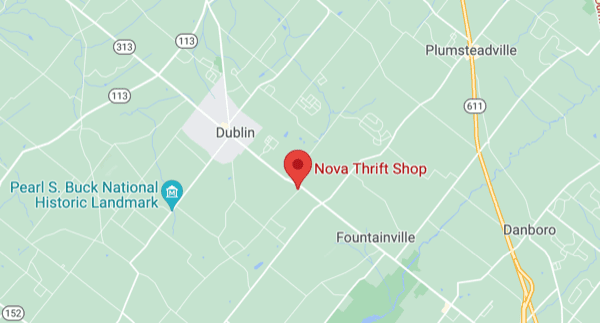 Donate to NOVA Thrift Shop
Yes, we accept the following items:
Small appliances (No larger than a toaster oven)
Baby clothes (

Must have working zippers, no holes, no used underwear or socks

) 
Bikes (Must be in working order, clean without rust)
Books (No musty smell, no textbooks)
Clothing (Please no heavy bags. If clothing is too worn or stained to resell, please bag those items separately and label, "Recycle")
Collectibles/Antiques
Cookware
Christmas Trees (Between the months of October and December)
Dishes
Fabric
Furniture (We can only accept pieces without upholstery or stuffing. Furniture must be in saleable condition; no scratches, rust or dents. Please call first to discuss furniture donations.)
Games
Gloves/Hats/Scarves
Handbags
Jewelry
Lamps
Linens
Magazines (3 months or newer)
Puzzles
Seasonal Decorations
Shoes
We CANNOT accept the following items:
Computers or printers
Exercise equipment or sports items like baseball bats or safety helmets, skis or ski boots
Large appliances (Nothing larger than a toaster oven)
Furniture that is larger than a small desk/dresser
Textbooks
Hangers
Electronic devices older than 5 years
Old suitcases, only carry-ons with wheels
Baby furniture or gear
TV consoles
Dining room hutches, armoires, and large desks
Mattresses or box springs
Microwaves Ovens
TVs, VCRs or VCR Tapes
Toys or stuffed animals
Soiled, outdated items
Volunteer at NOVA Thrift Shop
How can I volunteer?
Volunteers at NOVA Thrift come in all shapes and sizes with our youngest volunteers
in their teens and our oldest in their 90's! Whether you are looking for a way to fill some extra hours, meet some new friends, uncover some treasures of your own, or simply complete some community service hours, this is the place for you! We love the uniqueness of each and every volunteer that walks through our doors. So, try it out and spend a day with us at the store. You time and talents can help support victims of sexual assault and crime in Bucks County.
When can I volunteer?
Volunteers are welcome to work at times that are convenient for them, during the shop's hours of operation. Most volunteers commit to a 2-8 hour shift once or twice a week, but extra hands are welcome at any time.
What does a volunteer do?
There are a variety of tasks that need to be done every day to keep the store looking beautiful and running smoothly. Whether working the cash register, sorting, pricing, hanging clothing or merchandising items – there is something for everyone. And don't worry, training is provided if needed!
For more information, inquire at the shop or call Maria White, Thrift Shop Manager at 215-249-8000.